Attic Insulation and Attic Cleanup in Cardiff By The Sea
Under ideal conditions, your attic insulation is meant to last 20 years in Cardiff By The Sea. However, during that time, many factors contribute to the insulation's destruction. From dirt and debris to mold and rodent infestations, 911 Attic Services is qualified to save your attic from the effects of all of these issues and more. As a full-service restoration company, 911 Attic Services will administer all the necessary repairs and attic cleanup measures to decontaminate the space completely. The entire organization is IICRC certified, meaning they have reached the highest standards in the restoration industry. We are also licensed, bonded, and insured so customers can feel wholly protected under our care.
When you decide that you need attic cleanup and insulation install procedures, we will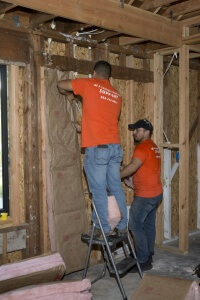 schedule a free visual inspection and estimate for property owners.
Technicians will never make their customers wait long for attic cleaning services once they have decided to hire our team. We will get to your property within the set 2-hour window and call a half hour before we arrive.
Customer service is an integral part of the attic cleaning and rodent proofing process, and the staff at 911 Attic Services puts your satisfaction on the top of their list of priorities.
Our attic cleaning company wants to help as many people as they can in Cardiff and the greater San Diego County area. We believe everyone deserves to live in a healthy home free of dirt, debris, and rodents.
When you need attic insulation, rodent control, or attic cleanup in Cardiff By The Sea, call 911 Attic Services. Their repair techs will administer the thorough attic decontamination services needed to give you a Fresh Start today!
Attic Cleaners That Also Specialize In Rodent Proofing
Rodent control is a significant part of the attic cleaning process. Rats, mice, and other critters can make their way into your property through openings smaller than the untrained eye can notice.
When the technicians administer their attic inspection, they will check for signs of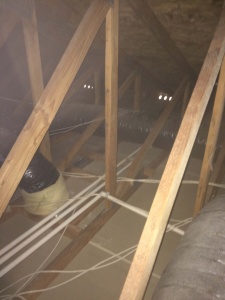 rodents. If you have any critters in your attic, they will leave droppings, urine marks, signs of gnawing, and nests.
Rats especially like to make their nests inside attic insulation. A rats nest can completely destroy the insulation material, leaving it chewed up and soaked with excrement.
During the rodent proofing process, technicians will safely remove the damaged fiberglass or cellulose material and replace it with new blown-in or batt insulation. Disposing of the affected attic insulation will help keep everyone in the property healthy.
To 911 Attic Services, rodent control is so much more than just closing up rat holes. It involves eradicating the current infestation, administering deep attic cleanup techniques, sanitizing the space, and preventing future rodent invasions.
Let our highly trained technicians give you peace of mind knowing that your property can be rodent-free. So, when you need rodent proofing in Cardiff By The Sea, call 911 Attic Services right away!
Insulation Installs Done Quickly And Efficiently
The insulation in your attic is an integral part of maintaining the entire property. It dictates the energy efficiency of your property, assists in ventilation, and determines the comfort level of the environment.
Although attic insulation is meant to last two decades, some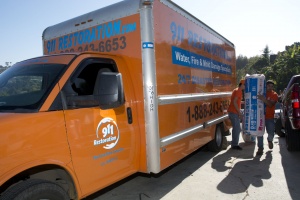 circumstances can drastically decrease its functionality.
Whether it be moisture, mold, rodents, or dirt buildup, some elements can affect the insulation to the point where it is basically useless.
When the attic insulation is not working to the best of its ability, you will feel the effects in the rest of the property.
If your home or business is not correctly insulated, then you will have to run your HVAC system harder than usual to regulate the indoor temperature. This lack of insulation will translate into higher energy bills.
The money you save on your monthly bill will offset the attic insulation cost, making professional installation a sound investment. Not only will you save money, but you will also feel more comfortable in your environment.
When you hire 911 Attic Services, you will receive attic cleanup and insulation services that are sure to make you feel completely at ease in your property. Call the attic cleaners that are trained to give your attic the Fresh Start it needs today!