Attic Insulation and Attic Cleanup in Fall Brook
Once you decide to hire the professional attic cleaning crew at 911 Attic services, the technicians do not want to make you wait a moment longer.
911 Attic Services is a full restoration company that specializes in crawlspace and attic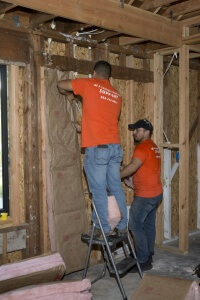 cleaning, insulation installation, and rodent proofing in Fall Brook. Their technicians are experts in getting these areas of the home decontaminated and functioning at their full potential.
The attic cleaners will work with your schedule and arrive within the predetermined two-hour window, calling thirty minutes before they get to your property to ensure that you are prepared for their arrival.
Customers will receive a free inspection and estimate, during which the technicians will establish whether your not you need rodent cleanup and attic insulation services as well. Repair techs are also qualified to handle mold and roof damage, issues typically found in San Diego County homes.
When you hire the experts at 911 Attic Services, you can feel confident in their ability to get your attic and crawlspace in top condition, not only due to their general contractor's license but because of their IICRC certification.
911 Attic Services strives to implement top-of-the-line, crawlspace, and attic cleaning in Fall Brook. So, call the staff immediately, and they will schedule you your free visual inspection today!
Achieve Energy Efficiency Through Attic Cleaning And Insulation
When your attic gets filled with dust and dirt, one of the main components to be affected by the debris is the insulation.
Whether you have blown-in or batt insulation installed in your attic, the materials can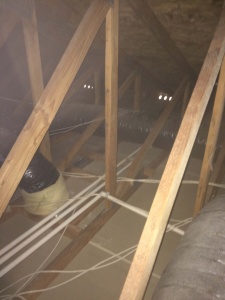 still be worn down by increased refuse caused by either caused by weather, rodents, or mold, making it impossible for it to perform its job of insulating your property.
If you are living with damaged insulation, it may go unnoticed until you physically go up in the attic and inspect the fiberglass. However, there may be other ways to determine if it is not working to its maximum potential.
Old, dirty insulation is not able to regulate the indoor temperature, forcing you to use your HVAC system more often and for more extended periods of times, resulting in very high energy bills. If you receive a higher than average bill, then you may want to receive a free inspection.
Technicians make sure that attic insulation maintenance is an integral part of any attic cleaning job and they will promptly remove unsalvagable attic insulation and replace it with new blown-in or batt insulation, depending on the space.
A staff member will go over everything with you, from the cost to insulate attics to the differences between blown-in insulation vs. batt insulation. So, if you have any questions regarding attic insulation in Fall Brook, call 911 Attic Services today.
Expert Rodent Removal And Cleanup Services
Rodents and small animals such as mice, opossums, squirrels, and raccoons are known to make their way into the attics and crawlspaces of homes and businesses in San Diego County.
The most common critter found inside customer's properties is the roof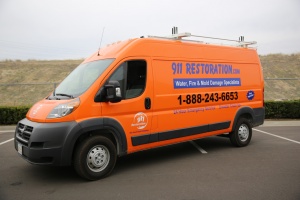 rat. They can climb trees to make their way onto your roof, eventually squeezing through an opening to get inside the attic.
Once rats begin to invade your attic, they will use the insulation as a nest and start to multiply. A rats nest can grow quite large in a relatively small period, which is why it is crucial to pay attention to scratching in the attic.
As soon as you hear noises in the attic, walls, or ceiling, you should have an attic cleaner come and inspect the area for signs of rats. The technicians at 911 Attic Services will not only eradicate a current rat infestation but implement rodent proofing services to keep critters from coming back again.
We will decontaminate your attic and seal up every potential entrance that a rodent might use to get inside your property. So, call 911 Attic Services today and let them turn your rodent control problem into a Fresh Start!
Servicing San Diego County and the cities of Alpine, Bonita, Bonita Long Canyon, Bonsall, Cardiff, Carlsbad, Carmel Valley, Central Escondido, Chula Vista, Coronado, Del Mar, Descanso, Dulzura, El Cajon, Encinitas, Escondido, Fallbrook, Hidden Meadows, Imperial Beach, Jamul, La Jolla, La Mesa, Lakeside, Lemon Grove, National City, Oceanside, Poway, Rainbow, Ramona, Rancho San Diego, Rancho Santa Fe, San Diego, San Luis Rey, San Marcos, San Ysidro, Santee, Solana Beach, Spring Valley, Valley Center, Vista, and the surrounding areas.