Attic Insulation Removal
The insulation in your attic plays a crucial role in the regulation of heating and cooling system of your home, which is why it is so important to constantly keep it well-maintained.
If you suspect that your attic has old, dirty insulation, 911 Attic Services will provide you with a free inspection to decide if it needs to be removed.
When the insulation in your attic becomes worn out, it often becomes inefficient and causes unnecessarily high energy bills. Getting your attic cleared of damaged insulation is the first step we will take to get the space cleaned, repaired and back to regulating your home's energy intake.
If we discover that it is filled with debris, animal feces and insects, then most likely rodents have moved into your attic and contaminated the insulation. Now, not only are you dealing with temperature issues in your home, but you have a health hazard on your hands.
When rodents are living in your attic they often chew through the insulation and defecate on it. This increased moisture can lead to mold infestations, which can have an impact on your health if you are exposed the spores for a significant period of time.
If either of these situations is occurring in your attic, it's time to remove the insulation from the area to maximize the energy-efficiency of your home and keep a healthy environment. 911 Attic Services offers a professional service that will remove the old insulation materials from your attic in a controlled way, without any disturbance to the rest of your home. So, give us a call today to schedule your free inspection and estimate.
We Remove Blown-In and Batt Insulation
The technicians at 911 Attic Services are experts in removing blown-in and batt insulation, which can both be difficult to handle if you are unfamiliar with the products.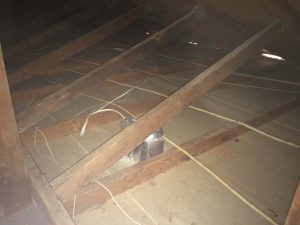 In order to remove every trace of the blown-in insulation, we use a custom-designed, high-powered vacuum that is connected to a very long hose.
All of the dust and debris will be thoroughly suctioned out into a large-volume, filter bag, specifically designed to collect the insulation material. The old insulation is then safely removed from the home.
Batt insulation does not require a special machine to remove, however it is still necessary to hire professionals to clear it out of your attic. It can be filled with dust and other hazardous debris that have the ability to affect your health. Our technicians will safely remove this insulation manually by placing it inside contractor trash bags and disposing of it properly.
It is important to remember that although the temptation may be strong, it is not wise to attempt an insulation removal on your own. You may be unable to sufficiently remove all of the insulation, come into contact with hazardous material, or even cause structural damage by stepping through your ceiling. So, play it safe and allow the professionals at 911 Attic Services to go about removing the insulation from your attic for you.
Stay Safe and Let a Professional Remove Your Insulation
There are several reasons why removing insulation yourself is not a good option for most homeowners, but the most important one is your health.
Problems can occur if you try the removal yourself without adequate protection and expertise. For instance, should pests or rodents have gotten into your insulation, stirring up dust and fecal matter might lead to contracting a disease.
Not everyone is familiar with the appearance of some potentially dangerous materials that older insulation has been made out of, such as asbestos and old fiberglass, which can be very dangerous to work with without the proper, protective equipment. 
By using our services you can be sure that you are avoiding any risk of contamination, which can happen when trying to remove insulation material directly through the inside of the building, rather than channeling it outside using a high-powered vacuum.
So, whether you're dealing with batts or blown-in insulation, you can depend on us to get rid of this old material in the safest way possible. Contact 911 Attic Services today to get a free estimate.