Crawlspace Cleanup in San Diego
should be a place where you experience relaxation. However, if you seem to be having allergy symptoms that occur when you're at home, then seem to subside when you leave, relaxed is probably the latest thing you are feeling. If you have noticed a musty smell that seems to be coming from your floors, call the crawlspace cleanup team at 911 Restoration of San Diego County.
Crawlspace cleanup experts number one concern. In order to provide quick and efficient services, 911 Restoration is open 24/7, 365 days per year. When moldy crawlspaces strike, the highly trained team is ready to strike bike. You can count on our team to provide crawlspace cleanup services that will have the property restored in no time. Homeowner's in the San Diego County area can rest assured knowing there is a team of experts that is just a phone call away.
Wet and moldy crawlspaces can be the cause behind many issues in a home. For instance, you may be experiencing cold floorboards or higher than normal utility bills. Luckily, crawlspace cleanup is an issue that can be dealt with in little time thanks to the training and experience our team has. Restore your peace of mind by calling the crawlspace cleanup team at 911 Restoration of San Diego County today!
The Importance of Having Your Crawlspace Cleaned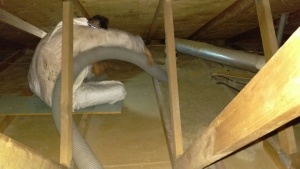 It's common for homeowners to avoid the dark, wet area beneath their home. However, leaving your crawlspace unattended to can cause some serious side effects to your property. Typically, crawlspaces are built because they are less expensive than a basement, but still get the home off the ground and away from unwanted pests. Unfortunately, when a crawlspace isn't kept up with, it can collect moisture, mildew and heat — then causing issues throughout the rest of the property.
When you call the team of crawlspace cleanup experts at 911 Restoration of San Diego County for services, you will notice benefits such as:
Lower energy bills. When a crawlspace hasn't been cleaned it can cause heat to escape the property. Once proper cleaning has occurred, all of the issues that could be caused by mold and moisture are prevented and it can help to save money on your energy bills.
Gets rid of unwanted pests. No homeowner wants to deal with pests living under their home. However, they tend to love places that are warm like crawlspaces. The problem with having pests is that they can cause serious damage to electrical wiring and duct work. Plus, the droppings they leave behind can create the risk of diseases and lower air quality in the property.
Reduce future damage and money spent on repairs. By receiving regular inspections and crawlspace cleanup services, it will help to protect your home from future issues. Mold infestations under a home can cause damage to the foundation and structure, which will cost a lot of money to repair. Avoid the need for serious services by scheduling an inspection with 911 Restoration today!
You deserve a crawlspace cleanup team you can trust to keep your home safe. Our team of highly trained experts will take every step necessary in order to ensure your property has received proper services in an efficient manner.
Efficient Crawlspace Cleanup Services
San Diego, Escondido, Chula Vista, Oceanside and other surrounding cities have access to highly trained crawlspace cleanup services. We are available 24/7, 365 days per year to get your property on the path to a fresh, cleaner start.
In addition, our team is highly trained to provide other services such as:
Attic cleanup
Debris removal
Rodent proofing
Sanitation and odor removal
Crawlspace insulation
Attic insulation
Rodent cleanup
Full restoration services
Insulation installation
Attic decontamination
And more!
Get on the path to a fresh start by calling the team at 911 Restoration of San Diego County today. Whatever crawlspace cleanup services you need, our team of highly trained technicians is ready to provide them.
Servicing Cities of San Diego County, including:
San Diego
Coronado
Carlsbad
Chula Vista
Oceanside
El Cajon
Escondido
Del Mar
Encinitas
La Mesa
Vista
San Marcos
National City
Poway
Julian
Santee
Imperial Beach
Spring Valley
Solana Beach
Lemon Grove
Fallbrook
Alpine
Rancho Santa Fe
Lakeside
Romona
Jamul
Bonita
Valley Center
Borrego Springs
Mount Laguna
Bonsall
Pine Valley
Campo
Jacumba
Descanso
Rancho San Diego
Lake San Marcos
Fairbanks Ranch
Harbison Canyon
Camp Pendleton
Casa de Or-Mount Helix
La Presa
Granite Hills
Bostonia
Rainbow
Boulevard
Winter Gardens
Hidden Meadows
Tecate
Crest