About Us
At 911 Attic Services, our insulation technicians offer a number of services, from attic and crawlspace insulation to air sealing of ducts, doors, windows, and walls. We have many years of experience in the industry, making us qualified to tackle any restoration job, whether it be for a home or a business.
In addition to keeping your attic insulated at industry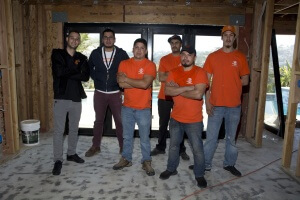 standards, it is important to make sure that your crawlspaces are cleaned and free of any animal carcasses, feces, live rodents, and insects.
Once the space is sufficiently cleared, it is necessary to insulate the area. If your crawlspace or attic lacks insulation then you may be allowing as much as 45% of your home's heating and cooling energy to escape.
These bare crawlspaces are also more likely to attract mold growth and unwanted critters. Getting quality fiberglass or cellulose insulation installed will save you money in energy bills and future damages.
Insulation Will Make Your Home Warm and Comfortable
Even if you already have an insulated home, you may not be receiving the benefits due to a poor fiberglass installation. If there is an inadequate amount of insulation in the attic or it is not evenly distributed throughout the area, then it may be necessary to hire experts to come and remediate the situation.
The specialists at 911 Attic Services care about the health and safety of our customers. In order to protect homeowners, we use loose-fill blown fiberglass, which is pure glass without all the chemicals and additives. It is able to resist moisture, reject mold and it is not flammable.
The insulation can be installed in any type of building and is considered a safe insulation option. This type of fiberglass creates a seamless insulation without any gapping. So, call us when you need the most qualified installation team in the business and we will make sure to take care of you and your home.
 Our Team Is Here To Take Care of You
We want to make sure that the financial aspect of the insulation process does not deter you from getting your home properly insulated. This is why our services are always the most affordable prices in the industry, so we can save you as much money as possible.
We also are considerate of your time. Our technicians will not make you wait around all day for us. We provide a 2-hour window and always make sure to arrive within that period. Once we get to your home, we will then inspect your current insulation situation for free, in order to provide you with a free estimate.
We place a lot of value on professionalism and always put the customer first. Our staff looks forward to improving the quality of your home life and giving you a fresh start. So, if you need professionals to insulate your home make sure to give us a call today!