Rodent Proofing San Diego
The last thing a homeowner wants to hear is the sound of rats scratching in their attic or crawlspace. Rats, raccoons, squirrels, and even opossums can quickly cause damage to your property and potentially spread diseases to family members and pets.
It's common to find rats in Escondido, Chula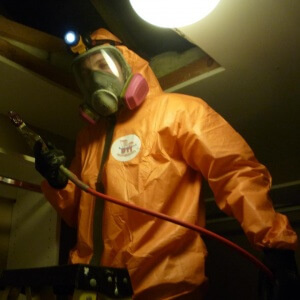 Vista, and Oceanside because they are indigenous animals that thrive in the sunny San Diego climate. However, when you begin to notice many rodents in and around your property, it may signal that you have rodents living in your attic.
911 Attic Insulation provides both attic cleaning and rodent proofing services to all of San Diego County. Not only will their technicians make it impossible for rats and mice to enter your home, but they will clean up your attic if you are already dealing with an infestation.
By rodent-proofing your home, you can stop these animals from invading your property in the first place, saving you time and money on costly home repairs.
The rodent control team will ensure that you feel safe in your own home by keeping the rats out and your attic clean. So, call 911 Attic Services at the first sign of a rodent infestation, and their specialists will provide you with a free inspection and estimate.
Rodent Removal and Cleanup Services
If your home has not already undergone rodent proofing, then at one point or another you may experience an infestation. 
Also known as "roof rats," these pests are typically found in homes in San Diego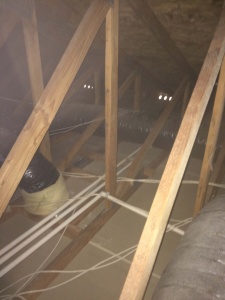 because of their desire to climb, rather than burrow, which is how they quickly make their way into attics.
Rats are the most common rodent that you will find dwelling in your property, and although they may look relatively harmless, they are quite dangerous.
They easily spread disease, gnaw through wood, chew up insulation, and contaminate food with their droppings, all issues that make rodent control so important.
911 Attic Services will work with your schedule to begin rodent cleanup procedures. Their technicians will implement thorough attic cleaning services to remove all signs that rats were ever on the premises, leaving your home completely free of all droppings, urine, dander, and carcasses.
Keeping your home safe is our number one priority. Due to the potential health hazards associated with rodents and rats, in particular, it is essential to call the rodent control team as soon as you suspect rodents living in the attic.
Understanding Rodent Control
To implement proper rodent control you need to be aware of your surroundings. If you hear scratching sounds in the attic and walls, do not ignore them. These noises could be the sound of mice, rats, or even squirrels invading the premises.
Along with scratching, the presence of an unusually foul odor could mean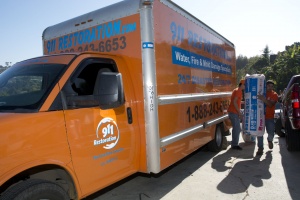 that rodents are dwelling in the attic. It is common for rats to die inside the walls of the home, creating a strong smell that can last for weeks.
You may also see droppings that resemble black grains of rice on countertops and in your pantry. There may also be parts of your cabinet or walls that appear gnawed up. 
911 Attic Services will provide you with the thorough inspection you need to determine precisely where the rodents are getting into your attic. You may be surprised to learn that tiny holes in your property can allow for dozens of rodents to enter the premises.
The technicians in San Diego know exactly how to patch up all potential rodent holes and seal off cracks that may also serve as entrances. The rodent control team will make it impossible for any rodent to squeeze into your property. So, give 911 Attic Services a call today, and we will keep your home a rodent-free zone.
Proudly servicing Alpine, Bonita, Bonsall, Borrego Springs, Bostonia, Boulevard, Camp Pendleton, Campo, Carlsbad, Casa de Or-Mount Helix, Chula Vista, Coronado, Crest, Del Mar, Descanso, El Cajon, Encinitas, Escondido, Fairbanks Ranch, Fallbrook, Granite Hills, Harbison Canyon, Hidden Meadows, Imperial Beach, Jacumba, Jamul, Julian, La Mesa, La Presa, Lake San Marcos, Lakeside, Lemon Grove, Mount Laguna, National City, Oceanside,  Pine Valley, Poway, Rainbow, Rancho San Diego, Rancho Santa Fe, Romona, San Marcos, Santee, Solana Beach, Spring Valley, Tecate, Valley Center, Vista, Winter Gardens and surrounding cities.