Insulation Install in San Diego
The insulation in your attic plays a major role in regulating the heat in your home by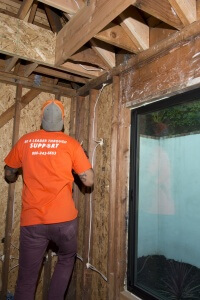 keeping the temperature in one area from leaking into another. When the insulation is old or damaged it can cause your energy bills to go up and cause your property to be irregularly heated.
By maintaining the insulation in your attic your heating and cooling cost can be dramatically reduced, saving you a lot of money during those peak seasons. You may be thinking "Well, I already have insulation, so I don't need to worry about it," but that is actually not true. Even if you have insulation it may not be working to the best of its ability.
Even though in theory it should be able to last up to 20 years, insulation can become damaged by rodent infestations, dirt, debris, and mold. If this is the case, then it won't regulate your home's temperature and it actually may even become a health risk.
If you need to get new insulation, then you should be aware of the different types. Below is a quick breakdown of what kind of insulation types and materials are available to you.
Batts insulation is also referred to as blankets, which is a flexible insulation that is best used for areas that have standard spacing between the joists and wall studs. It is difficult to use batts in unusually shaped spaces, but it is easy to install due to its roll-in application.
Blown-in insulation is a loose-fill insulation that comes in bags. To install blown-in insulation you need a special blowing machine, which any professional installer will own. It is best to use this loose-fill type of insulation for irregularly shaped areas, because it can be blown into any space.
Cellulose insulation is the most eco-friendly insulation material, because it is made from recycled products like newspaper and cotton. It can be used in the form of both batts and blown-in insulation.
Fiberglass insulation is made from fine threads of pulled glass that have been bound together. It can be difficult to handle due to the nature of the material, but the glue that holds the glass threads together can now be found in a plant-based form. It is also found in both loose-fill and roll-in.
It can difficult to decide what type of insulation is most appropriate for your attic, which is why you can call our professional attic cleaning to come give you a free inspection and estimate in order to determine exactly which insulation will best serve you.
Attic Insulation Removal
Insulation doesn't last forever. Yes, when taken care of properly it can be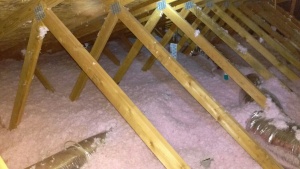 used for up to two decades, but without the right maintenance it can become dirty and damaged.
There are many different issues that can lead to the necessary removal of your insulation, including rodent infestation, mold and the build up of debris. If you discover rats or mice living in your attic and they have chewed through the insulation, it could become contaminated and wind up being a health hazard.
Dirt-filled insulation may be the result of old insulation that hasn't been changed since you moved in, or even before. When insulation has become damaged and dusty due to age, it no longer serves its purpose. This can result in high energy bills and trouble regulating the temperature in your home.
It may be tempting to try to remove the insulation yourself, but this can be an arduous and dangerous task. Old insulation can be made from asbestos and fiberglass, which have the ability to cause health issues, and require protective gear to be removed safely.
You also run the very real chance of stepping through your ceiling if you try to conduct an insulation removal on your own. It's easy not to see where you are stepping if you're looking high up in the rafters trying to remove blown-in insulation.
Don't run the risk of injury by attempting to remove your damaged batts or loose-fill insulation yourself and call the experts at 911 Attic Services today.
Insulation Install Procedures
Although you may need to remove damaged or old insulation, that doesn't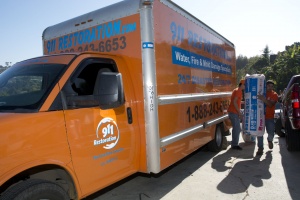 mean you should go without it. The whole point of insulating your home is to regulate and maintain the temperature in your property, so even if you need to get it removed, it is wise to immediately replace it.
With the right insulation you can enjoy a temperature controlled living space and an affordable electricity bill. Your home will stay heated in the winter and keep cool in the summer without using too much energy.
As mentioned before, the safest way to deal with any insulation issue is by hiring a professional. By going into your attic and attempting to insulate it yourself, you may become exposed to harmful contaminants such as rodent feces, mold and leftover asbestos from old insulation.
It is also important to make sure the proper amount of insulation is re-installed. Too much can actually be detrimental to the living situation. It can affect the ventilation capacity of the home, which can lead to moisture issues and subsequent mold growth.
Our professional attic cleaning professionals want to make sure your home is as best insulated as it can be for you and your family. So, give us a call as soon as you notice any signs that you need new insulation in your attic and we will install it properly and safely.