Attic Insulation and Attic Cleanup in La Jolla
Attics in San Diego County are frequently infested by rodents, roof rats, and mold, causing property owners in La Jolla to reach out for professional attic cleaning services.
If you have dirt, mold spores, and remnants if of a rat infestation in

your attic, you can rely on 911 Attic Services to clean out your attic and replace the insulation if it has also become damaged by the elements.
We want to make it easy for you to receive our attic cleanup services, so we work with your schedule to get professionals to your home quickly to implement a free inspection and estimate.
Attic cleanup experts create two-hour scheduling windows and always call 30 minutes before arriving at your home, so you know exactly what time the technicians will be at your house.
Property owners in La Jolla can depend on us to insulate your attic and thoroughly clean the entire area within roughly one day of work. If you happen to have a large attic in your property, then the job will rarely take longer than two days.
Call 911 Attic Services when you need attic cleanup services and your home in La Jolla will soon be on the road to a Fresh Start!
Expert Attic Decontamination Services
An attic plays a vital role in maintaining the overall quality of the home's environment. When an attic is dusty and moldy, the air quality of the entire property.
By eradicating mold, cleaning out dirt, and removing any debris, you can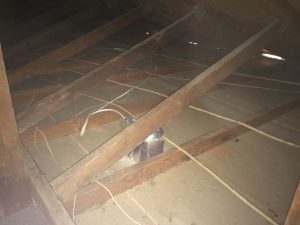 feel confident that you are living in healthy conditions.
Rats and rodents can also make their way into your attic. They can build nests in the space, damaging the insulation, joists and other wooden surfaces. Droppings, urine, dander, and carcasses can become health hazards and contaminate other areas of the home.
The attic cleanup techs near La Jolla are experts in rodent-proofing attics, which includes cleaning away any traces of past or current rat infestations and sealing up any openings that small animals can squeeze through.
Proper attic cleaning services will sufficiently raise the air quality of the home, so call 911 Attic Services today to receive a thorough attic inspection today.
Attic Insulation Clean-Out Procedures
The insulation in your attic can last decades when it is adequately maintained. However, most of the time, outside factors can damage the insulation, rendering it useless.
As mentioned before, mold and rodent infestations can destroy an attic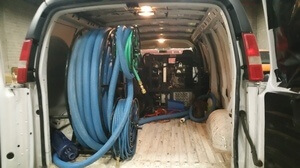 space, especially when it comes to the insulation.
Increased moisture can settle in the insulation and wood, sparking an infestation that will riddle the attic insulation with mold. Neither Blown-In nor Batt insulation will be able to function when it is overgrown with mold and mildew.
Mold isn't the only thing that can infest your insulation. Rodents love to build nests in the warm material, and it often becomes a literal breeding ground for the rodents. 
Rats will also chew through the insulation and defecate throughout the fiberglass, soaking it with feces and urine. The rodents can also spread diseases to other areas of the home by traveling through the ceiling and walls.
By removing the damaged insulation and replacing it when you discover either type of infestation, your home will maintain healthy air quality and regulate its internal temperature. Call 911 Attic Services if you notice signs that your attic insulation is not functioning correctly and our attic cleaners will give you the Fresh Start you need.
Proudly servicing San Diego, Alpine, Bonita, Bonsall, Borrego Springs, Bostonia, Boulevard, Camp Pendleton, Campo, Carlsbad, Casa de Or-Mount Helix, Chula Vista, Coronado, Crest, Del Mar, Descanso, El Cajon, Encinitas, Escondido, Fairbanks Ranch, Fallbrook, Granite Hills, Harbison Canyon, Hidden Meadows, Imperial Beach, Jacumba, Jamul, Julian, La Mesa, La Presa, Lake San Marcos, Lakeside, Lemon Grove, Mount Laguna, National City, Oceanside,  Pine Valley, Poway, Rainbow, Rancho San Diego, Rancho Santa Fe, Romona, San Marcos, Santee, Solana Beach, Spring Valley, Tecate, Valley Center, Vista, Winter Gardens and surrounding cities.