Attic Insulation and Attic Cleanup in National City
It is common for dust, mold, and even rodents to accumulate inside your attic, especially if you haven't been up there to clean the space in a while.
Although these issues may seem like they are out of sight and out of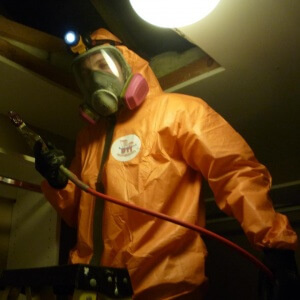 mind, it is actually crucial to the rest of your household to maintain your attic and its insulation.
911 Attic Services will provide property owners with a free visual inspection during which they will check for signs of a rodent infestation, mold growth, roof damage, and damaged insulation.
You can trust that the IICRC Certified attic cleaners will conduct their attic cleaning services with meticulous care. It is essential to remove every trace of mold and rodent debris to ensure that the air quality in the rest of your property is as high as possible.
The attic insulation also plays a vital role in maintaining the household. When insulation becomes dirty and damaged, it can become difficult to regulate the home's temperature, requiring your HVAC system to use much more energy than it should.
We service National City and everywhere else in San Diego County, so call 911 Attic Services when you suspect it's time to clean your attic. Technicians will work with your schedule to give you that free visual inspection and estimate today!
Insulation Installation For Your Attic And Crawlspace
Property owners can quickly forget about the quality of the insulation in their attic and crawlspace, mostly because these areas of the home are out of sight and forget about until something goes wrong.
The insulation in both these part of the property can become overrun by mold and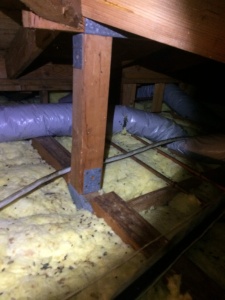 rodents. Both issues can eat away at the insulation, rendering it useless to perform its function of regulating the internal temperature of the home.
Old, dirty insulation can also affect the indoor air quality, especially if it is filled with rodent droppings and mold spores.
By removing the damaged insulation and replacing it with either blown-in or batt insulation, you can ensure the safety of the air you and your family is breathing, as well as lower your monthly energy bill.
Technicians will implement thorough crawlspace and attic cleaning services that include the reinstallation of insulation material. This clean, new installation will have a dramatically positive impact on your home.
Call 911 Attic Services to get the insulation in your attic and crawlspace inspected today, and we will design a plan specifically made to give your home a Fresh Start today!
Keep Your Attic Clean And Rodent Free
Rats and other rodents can squeeze their way into your attic and crawlspace through small holes and cracks in the roof and foundation. These openings can be as small as a quarter, if not smaller, and allow dozens of rodents inside.
One of the telltale signs that you have rodents living in your attic,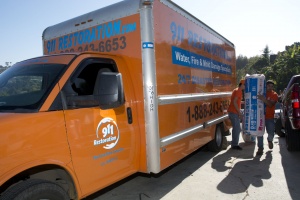 crawlspace, and walls is if you hear scratching noises, especially at night. You may also see droppings around the property that look like grains of black rice.
Rat droppings and urine carry disease that people can contract if they come into contact with the substances. The urine is especially dangerous due to the fact that it attracts more rats into the property.
Most rodents like to chew, and they will gnaw through electrical wiring, wood, and insulation causing significant damage. This excessive chewing can create electrical fires and structural issues.
Not only will they chew through the insulation, but they will create nests inside of it. When rats infest your insulation, they will matt it down and soak it with urine and droppings, reducing its effectiveness and raising your heating and cooling bills.
If you suspect that rats or any other rodent may be dwelling in your attic or crawlspace, call 911 Attic Services for fast rodent control services in San Diego today!
Proudly servicing San Diego, Alpine, Bonita, Bonsall, Borrego Springs, Bostonia, Boulevard, Camp Pendleton, Campo, Carlsbad, Casa de Or-Mount Helix, Chula Vista, Coronado, Crest, Del Mar, Descanso, El Cajon, Encinitas, Escondido, Fairbanks Ranch, Fallbrook, Granite Hills, Harbison Canyon, Hidden Meadows, Imperial Beach, Jacumba, Jamul, Julian, La Mesa, La Presa, Lake San Marcos, Lakeside, Lemon Grove, Mount Laguna, National City, Oceanside,  Pine Valley, Poway, Rainbow, Rancho San Diego, Rancho Santa Fe, Romona, San Marcos, Santee, Solana Beach, Spring Valley, Tecate, Valley Center, Vista, Winter Gardens and surrounding cities.