Attic Insulation and Attic Cleanup in Alpine
The attic plays an essential role in maintaining the overall health and comfort of the entire property, mainly by facilitating a ventilation system. When the attic becomes cluttered, dirty, and dusty, it can hinder its ability to keep air flowing and causes it to stagnate indoors. Damaged attic insulation can also contribute to this lack of airflow and degrade the indoor air quality. 911 Attic Services has been in the business of conducting attic cleaning and insulation installation services in San Diego County for years. If you suspect your attic needs maintenance, technicians will give the property owner a free visual inspection. This initial survey will allow them to determine the services you need and come up with an estimate.
911 Attic Services is a full-service restoration company, meaning they can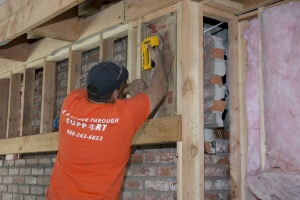 provide more than just insulation services and attic cleanup in Alpine. If it turns out you have roof damage or mold, they will administer repair services for those issues, as well.
It is common for rats and other rodents to make their way into attics in San Diego County. Rodents can destroy attic insulation and contaminate your attic, not to mention, make a complete mess.
However, property owners can depend on our technicians to administer rodent control that includes rodent proofing and cleanup services that will decontaminate your property.
Our repair techs work with your schedule, so you never have to wait for assistance. They always stick to their 2-hour scheduling window and call a half hour before they arrive.
The attic cleaners work fast and efficiently, usually completing an attic cleanup and insulation job in about one day. So, call 911 Attic Services as soon as you need thorough attic cleanup and insulation install in Alpine, and we will get start decontamination procedures right away!
Attic Cleaners That Specialize In Rodent Control
Homes and businesses in San Diego County are susceptible to becoming infested by rodents, with roof rats being the most common critters in the area.
Roof rats are excellent climbers and can easily make their way on to your roof and into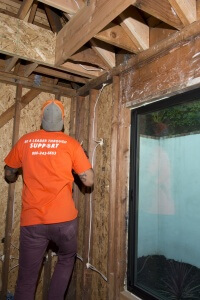 your attic. They can squeeze into surprisingly small passageways that can go unnoticed by the untrained eye.
Even if you don't see rodents in your property, you can hear them, mostly at evening. Rodents make scratching sounds in the walls and ceiling when they are active at night.
If you hear scratching in the attic, then you need to schedule an appoint with the attic cleaners in Alpine right away. The technicians will inspect your roof and attic for signs of rodents, as well as check the quality of your insulation.
Through expert attic insulation cleanout procedures, repair techs will safely remove the insulation and dispose of it properly as to not contaminate the rest of the home or business.
Technicians will close all the entrances that rodents may have used to enter your attic, no matter how small or insignificant they might appear.
The faster you reach out for expert attic decontamination and rodent control services, the quicker you can go back to feeling safe and comfortable in your property. Call 911 Attic Services today and let the experts give you the peace of mind you need knowing that we will get your home or business cleaned up in no time!
Insulation Install Services For Your Attic And Crawlspace
Insulation is meant to last about 20 years from the point of installation. The problem is that within those 20 years, there are many opportunities for the insulation in your attic and crawlspace to become damaged.
Between rodents, mold, and general wear and tear, your attic and crawlspace insulation
can stop efficiently working to the point of actually feeling the effects.
The main job of insulation is to reduce the exchange of heat through the walls of your attic and crawlspace. When insulation is at its best, it will stop warm air from escaping in the winter and cold air from escaping in the summer.
When you regulate the indoor air, it reduces the amount of energy your property needs to use to heat and cool the space. Correctly working insulation can translate into lower energy bills and better air quality.
911 Attic Services is aware of all the issues that can affect the insulation. Their technicians are qualified to administer insulation install techniques that will help you maintain an efficient household.
Rodents tend to make their nests in crawlspace and attic insulation, gnawing and defecating on it until it is rendered useless. Moisture from the rodents can facilitate mold inside the insulation and also create extensive damage.
With regular attic cleanup services, you can be confident that the insulation in both your attic and crawlspace is functioning properly. So, call 911 Attic services when you need professional attic insulation install and cleaning techniques. Our experts will execute an attic cleanup strategy that is sure to give you the Fresh Start you deserve!