Water Damage and Mold Removal in San Diego County
As a homeowner, you are probably looking for ways to become more environmentally aware. But, you may not be aware of the fact that there is a great way to reduce energy usage in your home, while also lowering your utility bill. 
The answer to this is simple — proper attic insulation. Having proper attic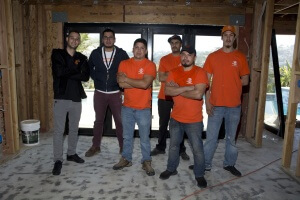 insulation in your property is a cost-effective way to help reduce the amount of money spent on the AC each month. Due to the fact that heat rises at all times of the year, attic insulation is the most important insulation in your entire home. At 911 Restoration of San Diego County, our team understands the benefits of having adequate attic insulation and how it can contribute to making your home energy efficient.
Attic insulation provides better temperature control for the summer and winter months. In order to ensure that your attics insulation is working at its optimal level, the team at 911 Restoration of San Diego County offers services such as:
Roof insulation

Fiberglass attic insulation

Attic insulation cleanout

Removal of blown in attic insulation

Insulation install

Attic insulation removal

Attic decontamination

Attic inspections

And more!
Despite the attic insulation service your home needs, the highly trained team of technicians at 911 Restoration of San Diego County is able to get the job done! Homeowners in San Diego, Escondido, Chula Vista, Oceanside and other surrounding cities can rest assured knowing their is a team of attic insulation experts that is just one phone call away! Call 911 Restoration for all of your attic insulation needs today. 
Purpose of Attic Insulation
When it comes to cleaning the attic,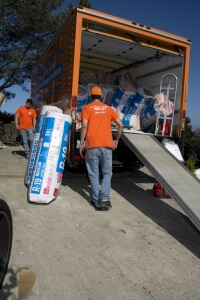 many homeowners don't think twice about it. That is until they experience a rodent infestation or strange smell. However, by having a team that provides basic attic cleaning and inspections, it can help homeowners have well-maintained attic insulation, rather than poor attic insulation.
If you own a two-story home, then you may know that the upstairs part of the house isextremely cold in winter and has you sweating even more in summer. Because heat rises, when your attic is not properly insulated, you lose a majority of the heat for your through the attic. During the winter months, your attic should be cold because the insulation on the floor prevents the heat from penetrating through the ceiling. Therefore, proper attic insulation decreases utility bills because you are getting the optimal use of the heat and none if it is being wasted by heating the attic. However, during summer when the attic is insulated, the roof is not. The insulation on the floor prevents the heat from coming down into the home where you are trying to stay sweat free!
Not only does attic insulation help with energy efficiency, it is where many homeowners keep belongings. When you have items stored in the attic that you are trying to save, damage can happen if the attic is not the right temperature throughout the year. So, not only does proper attic insulation keep your home the right temperature and utility bill lower, it also keeps your stored belongings safe and usable.
San Diego's Attic Insulation Experts
There are many benefits that come with having proper attic insulation. In addition to reducing the amount of heat lost and energy you are using, it also helps prevent pollen, dirt, pests and insects from entering your home.
At 911 Restoration of San Diego County, our team of IICRC trained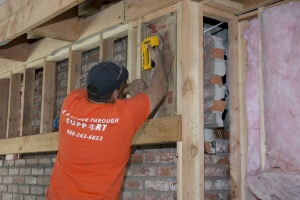 technicians are available to provide attic insulation services to your home in San Diego, Escondido, Chula Vista, Oceanside or another surrounding city.
If you are searching for ways to increase your environmental awareness, having proper attic insulation is a great step towards going green due to the energy efficiency associated with it. Proper insulation allows homeowners to consume lower energy all year round and decreases the utility bill, as well. Get your California home on the path to proper attic insulation by calling the team of experts at 911 Restoration of San Diego County!
Servicing Cities of San Diego, Coronado, Carlsbad, Chula Vista, Oceanside, El Cajon, Escondido, Del Mar, Encinitas, La Mesa, Vista, San Marcos, National City, Poway, Julian, Santee, Imperial Beach, Spring Valley, Solana Beach, Lemon Grove, Fallbrook, Alpine, Rancho Santa Fe, Lakeside, Romona, Jamul, Bonita, Valley Center, Borrego Springs, Mount Laguna, Bonsall, Pine Valley, Campo, Jacumba, Descanso, Rancho San Diego, Lake San Marcos, Fairbanks Ranch, Harbison Canyon, Camp Pendleton, Casa de Or-Mount Helix, La Presa, Granite Hills, Bostonia, Rainbow, Boulevard, Winter Gardens, Hidden Meadows, Tecate, Crest